What would your consulting business (and life!) look like if you could land any new client you wanted?
---
Imagine it. Knowing exactly how to get to your ideal clients, and consistently take them to a successful close.
You could stop flailing, trying a lot of things to get new clients, but not sure which will work.
You could work with higher-value, better-paying clients, not just the ones who happen to come your way.
You could predict your revenue and plan ahead.
How would that stabilize your income? What would that mean for you as an entrepreneur?
I know what you're struggling with, because I've been there...
You know you're good at doing the work, but getting new clients feels like unfamiliar territory.
You've gotten this far with referrals and word of mouth, but you know that won't last forever.
And you've lost some clients that should have been a slam dunk, and you're not sure why.
But you don't know what to do. You don't want to sound desperate or be aggressive, and you don't want to waste your time.
It's frustrating, isn't it? You just want to know what to do, that also feels comfortable and lets you be yourself.
If this sounds familiar, you're ready for SIGNED.
SIGNED is a guided coaching program just for women running B2B consulting and coaching businesses, where you'll learn how to master the sales process, find incredible confidence, get more yes's, and get paid dramatically more for every contract.
Here's what happens when you and I work on your business together in SIGNED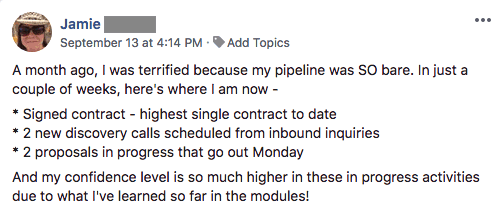 This course has brought me so much clarity because I know that I CAN do it. Since I know what to do, I don't second-guess myself or have all of that self-doubt. And I see - and pursue - more opportunities because I know exactly how to make things happen. So without all that space taken up by trying to "figure things out," not only do I have much more mental space to create, I also feel more at peace.
- Valentina Fomenko, startup strategy consultant
OK, what is SIGNED?
SIGNED is not an online course.
It's a 10-week guided coaching program designed to teach you the strategies needed to land higher value clients for your consulting business.
---
Working directly with me, you will learn how to:
Clearly and effectively communicate the value of your work.
Reach out to potential clients in a way that gets a response (and doesn't feel salesy).
Keep potential clients engaged in the sales process so they don't go silent.
Price your work and get paid dramatically more for every contract.
Build a meaningful pipeline of potential clients who need your work.
Confidently lead the sales process to a successful close.
Balance doing business development with doing the work.
... and you'll have me as your dedicated coach, helping you close the potential clients you're talking to.
SIGNED will show you how to
---
Own It
Become the CEO in this part of your business.
Sign It
Take prospects from first contact to close in a way that doesn't feel like selling.
Maximize It
Get consistent referrals and upsells, and balance biz dev with doing the work.
You'll implement the system to confidently land higher value clients, and you'll get support from me and a small group of incredible women entrepreneurs.
Week 1: Sales Process
Get organized with an easy-to-follow sales process that works the way you work.
---
Week 2: Messaging
Clearly communicate the value of your work to make prospects want to work with you.
---
Week 3: Mindset
Learn a strategy to rapidly build confidence, so you feel comfortable talking to any prospect.
---
Week 4: Lead Generation
Attract and connect with the right leads who have the exact problem you solve, and who can afford you.
---
Week 5: Leading the Sale
Comfortably lead the sales process to keep prospects engaged and get to yes.
---
Week 6: Pricing & Proposals
Craft your offers and price your work to get paid more for every contract, and deliver proposals that get a yes.
---
Week 7: Negotiation
Negotiate to protect your price so you get paid all the money, without having to agree to a discount.
---
Week 8: Referrals
Turn your incredible work into more work through referrals and upsells.
---
Week 9: Streamline Your Systems
Streamline your tech systems to save time and make biz dev easier.
---
Week 10: Bonus Implementation Week
Get the support and coaching that will help you supercharge this system in your business.
A few more words from happy SIGNED graduates...
---

It was about a year ago that I participated in SIGNED and what a year it's been! I will likely end the year with 75% more revenue than I targeted for the year.
- Deepti Gudipati, leadership consultant
I renewed a client with the new pricing model we created. I was doing hourly billing for them before, and I just closed a $30k sale... with no onsite work, and no counting hours. I'm totally a believer in this strategy!
- Stacey Ackerman, agile marketing consultant
Wondering if SIGNED is right for you?
This program is for you if...
You're running or leading a service-based business: consulting, coaching, or creative services.
You have a service you've sold at least once / you've demonstrated a market for your work.
The process of getting new clients means talking to your clients.
You have no interest in engaging in desperate sales schemes.
You sell to businesses (B2B) or a mix of businesses and consumers.
You're "all in" in your business, or working on getting there.
This program isn't for you if...
You haven't yet found your business idea / you haven't demonstrated a market for your services.
You sell products.
You only sell to individuals.
You're in direct sales, MLM, or network marketing.
Graduates are in industries like...
Branding, brand strategy, personal branding
Marketing, digital marketing, website development, SEO
Creative services, film/video development
Management consulting, leadership consulting, organizational development consulting
HR consulting, workforce consulting, payroll consulting
Fashion consulting, retail consulting... and more
Click the button below to find out if SIGNED is right for you ...
After you answer a few simple questions, you'll be invited to schedule a 15-minute call with a member of our team where we'll learn about your business and see if SIGNED is a good fit for YOU.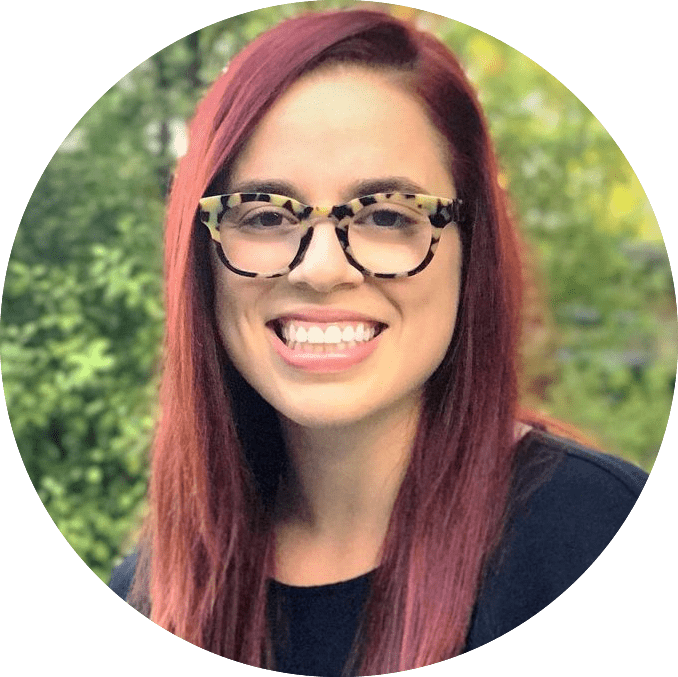 Since SIGNED, Amanda...
Charges and gets paid 5x more per contract
Made between 3-4x more than the income goal she set for the year
Went from saying yes to everything, to only taking on the clients she wants
---
"I set what I thought was an aggressive financial goal for this year, and at the end of the year I'm on track to exceed it somewhere between three and four times."
"I would say the biggest thing that I've taken away that you can't really put a price on, is my confidence in my ability to sell in a way that feels very authentic to me. I'm still glad I said yes to it a year later!"
---
- Amanda Gulino, HR consultant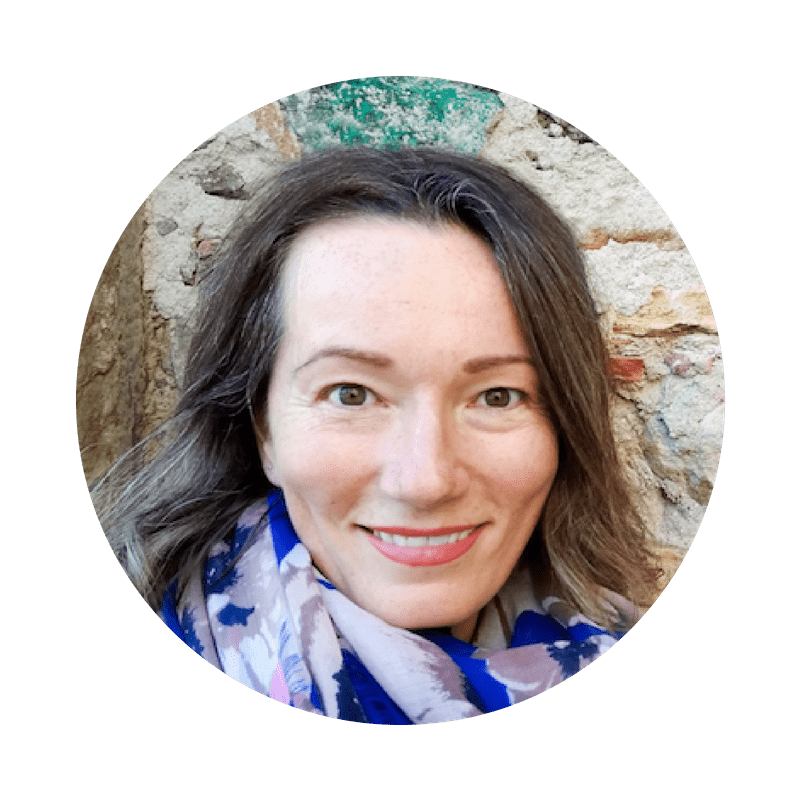 In SIGNED, Betsy...
Started making more money in two weeks
Now charges and gets paid between 4-5x more than before
---
"I just like knowing that I don't have to worry about money, I don't have to lie awake at night thinking about how I'm going to land this next client.
I don't have to worry that I'm working into the weekends to beat a rush, or that I'm twiddling my thumbs waiting for something to come along. Everything is consistent, which means my life, my lifestyle, my stress... all of that is so nice."
---
- Betsy Talbot, copywriter
Frequently asked questions about SIGNED
How much does SIGNED cost?
We're happy to talk price specifics with folks who apply, but to give you a sense, I can tell you: this is a high-touch program where you work directly with me every week, and I'm giving you all of the tools, templates, resources, and guidance to be successful. Because of that, it's for women who are serious about growing their business, who are committed to making a real change in themselves, and are willing to make a mid-four-figure investment to make that change. If this sounds like you, I can't wait to work with you!
---
Will this program help me get leads?
Yes. But not just any leads. You'll learn how to get the right leads who need what you offer.
---
Do I need to get a better handle on my messaging/branding before I join?
No. In Week 2, you'll craft messaging about your work that quickly communicates your incredible value and makes prospects want to work with you. You could toil away by yourself, but wouldn't it be easier to do it with guidance and feedback from me?
---
What types of businesses does this program work for?
SIGNED works for service-based businesses like consulting, coaching, or creative services (i.e. web designers, etc.). If the process of landing new clients involves talking to your potential clients, this program will work for you.
---
Will I get 1:1 time with Leah?
Yes. In addition to weekly group calls, you will have three 1:1 calls with Leah. You will also be in a Private Coaching Community just for your class, where you can get guidance from Leah at any time.
---
How much time will this require per week?
Most students spend around 30 minutes working on the lessons and one hour in the weekly coaching calls. Spending 1 1/2 hour a week to learn how to make dramatically more income forever? Seems reasonable.
---
What results have people achieved?
Students in the program have landed new clients, signed their biggest deals ever, built 6- and 7-figure pipelines, signed new clients in the very first call, and booked a year's worth of revenue in the first few months. Students have also gained incredible confidence, and shed the limiting beliefs that have held them back.
---
How soon will I see results?
While I can't guarantee results, most students make back their full investment (and more) within a few weeks of joining the program.
---
What if I have to miss a week or two?
That's totally ok. Each weekly call is recorded and posted in the private coaching community, so you can catch up easily. And if you have to miss a bunch of weeks, we can schedule a call to get you back on track.
---
What happens after the program is over?
You'll join the SIGNED Masters community of program graduates. There you'll get support from me and the other graduates as you continue to use the SIGNED method to help you sign new clients.
Your Coach: Leah Neaderthal
From dreading every sales conversation... to a 92% win rate and over $3MM in consulting work
I remember when it was hard for me to land new clients too.
I had built my career in corporate marketing, and as soon as I started my business, I realized that even though I had been a rock star in marketing, I didn't actually know how to get clients.
And what's worse, I was embarrassed that I couldn't do it.
Then I hit rock bottom: I went back and got an office job. But I hated it. I missed my freedom, and I didn't spend the rest of my life working for someone else.
I realized that if I was going to succeed, I had to learn how to land new clients.
But not the salesy way I had seen before. I wanted a way that felt right for me.
I decided to teach myself. Over the next four years I read everything I could get my hands on about selling. 65 books, to be exact. I tried nearly every sales strategy and approach with my own clients.
Anything that felt salesy, I ditched. Anything that felt natural, I kept.
It took four years to develop a selling methodology that feels comfortable and works. And using that approach, I have a 92% win rate and I've sold $3MM in work.
Now I teach others how to do it in 10 weeks.
Here's the thing: I'm not a salesperson. I've never been in sales.
I'm an entrepreneur, and total introvert who'd much rather be in the background doing the work. But I learned how to land new clients, and now it's second nature to me.
That's how I know you can do it too. All you need is to know what works, and get guidance to help you put it into practice in your business.
I'm glad you're here, and I'm looking forward to working with you.