Hey! Really quick – next week, I'm hosting a LIVE training about how to get B2B consulting clients, even if selling is your weakness (and even if it feels weird to sell right now). There are two dates to choose from – scroll to the end to choose your session and reserve your spot. See you there!
—
Hi… we decided to throw out the agenda.
It was six weeks ago. It was one of the early weeks of the COVID-19 pandemic, the week that I think we all kind of started to realize how serious this was.
It was also Week 5 of our SIGNED coaching program, and we were supposed to talk about how to lead a potential client down the sales process in a way that's really effective and without feeling pushy.
But in the coaching call, instead of going ahead with our scheduled topics, I asked the women in the group what was on their mind.
The conversation that followed was so incredible, about how to really show up for our clients and for ourselves in light of everything going on.
So incredible, that I've made the recording available for you to listen in on.
Now, normally I wouldn't share recordings of conversations from SIGNED because it's a really intimate small group program.
And on these calls we talk about real stuff. Real potential clients that students are currently talking to, real actual clients, real numbers, and we solve real problems and work through real things that are going on in everyone's business and even personal lives.
So the recordings of these calls are shared only with the students in that class and kind of locked away in a vault that's only accessible to them forever.
But after this call, I came back to the members of this class and I asked them if they'd be okay with me sharing this call with you. And they graciously said yes.
So what you're going to hear is the conversation we had that day. With some key parts removed according to each student's request.
This also happens to be a sneak peek of my new podcast, Leads to Clients.
And you can listen to it all right here.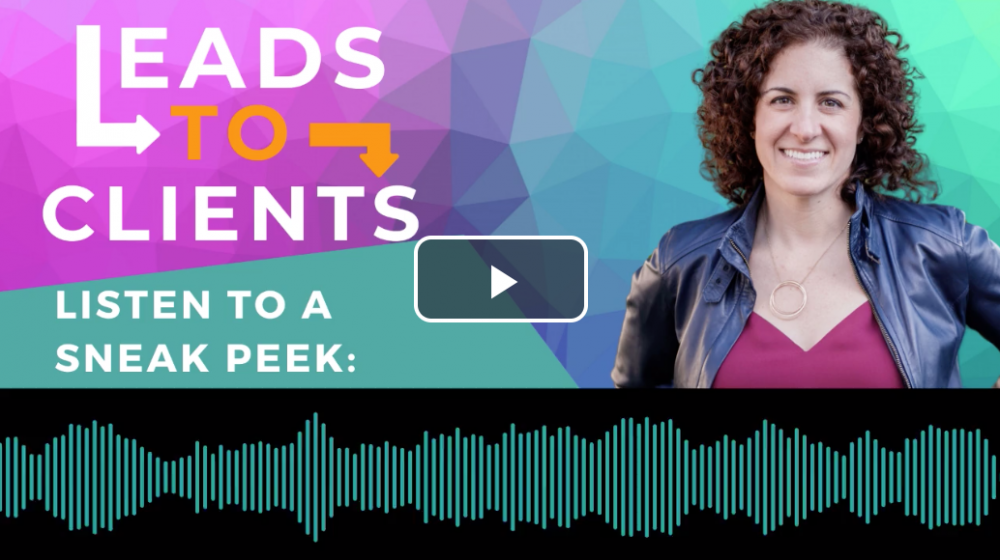 I hope you enjoy it: not only will you get to listen in on how other business owners are dealing with and growing through a global crisis and uncertain market, I'll also come back at the end of the episode to talk through a lesson from that call that you can apply to your business.
Here's that link again to listen in.
And, if you're ready to start landing new clients of your own, even in the midst of an uncertain time, I'd also like to invite you a LIVE free training on How To Land Consulting Clients… Even If Selling Is Your Weakness.
There are two dates to choose from, so you can choose a time that works with your schedule.
Tuesday, April 28th – 12:30 – 1:30pm ET
Thursday, April 30th – 2 – 3pm ET
I'll teach you the proven system in a no-fluff training that you can take and start using RIGHT AWAY.
Here's a closer look at what you'll learn:
The proven, step-by-step system to get the consulting clients you really want (in a way that doesn't even feel like selling!)
The three things that are actually making it harder for clients to say yes to you (and that you can stop doing right now!).
Why you never have to pitch, cold call, or lower your prices …and what to do instead
Plus, if when you attend live, I'll be there to answer your questions, AND you'll get a bonus: my 10 Ways To Follow Up With Prospects (That Don't Feel Like You're Being Annoying!) guide… but that's only available to those who come to one of the live workshops!
In a time that can be isolating, I'm so grateful to you, and to my SIGNED students. I love that we can share our experiences and connect through trainings so we can continue to grow together.
Here's the info and the links to register..
LIVE TRAINING:
How To Land Consulting Clients…Even If Selling Is Your Weakness
Tuesday, April 28th | 12:30-1:30pm EST / 9:30-10:30am PST | Click here to register
Thursday, April 30th | 2-3pm EST / 11am-12pm PST | Click here to register
To save your seat and get access to this training, choose your session and click one of the links above.
See you in the workshop,
Leah